SPECIAL INVESTIGATION
Claim
I personally collected Mr Muhammadu Buhari's certificate from Cambridge on the 18th of July 2019 – Mr Abba Kyari (testifying in court on the 30th of July 2019)
Source
Nigeria News, Social Media platforms
Ground zero of Claim
According to the Nigeria Tribune, the current Chief of Staff to President Buhari, Alhaji Abba Kyari, speaking as a witness claimed to have known Buhari for nearly 40 years, and swore at the tribunal that he personally received and signed for Buhari's Cambridge WASC Certificate on the 18th of July 2019.
Fact – what we know
Mr buhari has never been able to produce any WASC certificate since the build up to 2015 election that brought the issue to the front burner.
Mr buhari deposed to an oath in court in 2014 that his certificates were submitted to the military board as at the time he joined the military. See details here.
The military board denied Mr buharis claim in 2015, and till date, Mr buhari as the commander in Chief has not been given any copy of the said credentials by the military he commands. See Army denial here.
Mr buhari again deposed to a new affidavit in October 2018 that the military board still has his credentials whilst his aides claimed the board had lost his credentials. See details here.
WAEC presented an attestation certificate to Mr buhari in November 2018. See details here.
Mr buharis own witness in court on the 30th of July 2019, eventually denied that the military board demanded for, and kept the new recruits credentials as at the time he joined the army alongside Mr buhari. "Tafa, who made the disclosure while answering a question from lead counsel to INEC, Yunus Usman (SAN), insisted that the Nigerian Army never asked them to surrender their certificates in 1962 for whatever reason."
According to Cambridge Assessment, you cannot receive your certifying statement in person. It has to be mailed to you via courier (for expedited service). There is an option for airmail that is free but you cant get the certifying statement on the same day.
Doug Roper works for Cambridge Assessment in the Results and Dispatch Department.
Documents that surfaced with Mr Kyari's signature, (purportedly the collection receipt), stated that 6 copies were signed for by Mr Kyari, and the total cost was £109.61.
Proof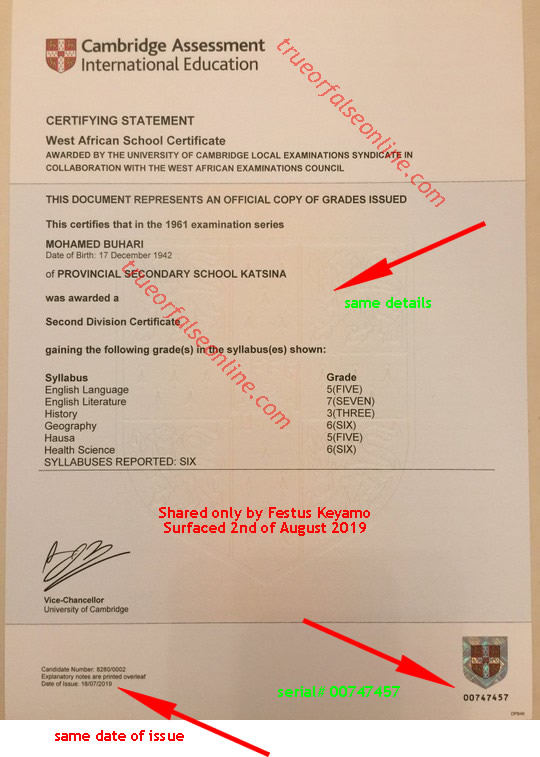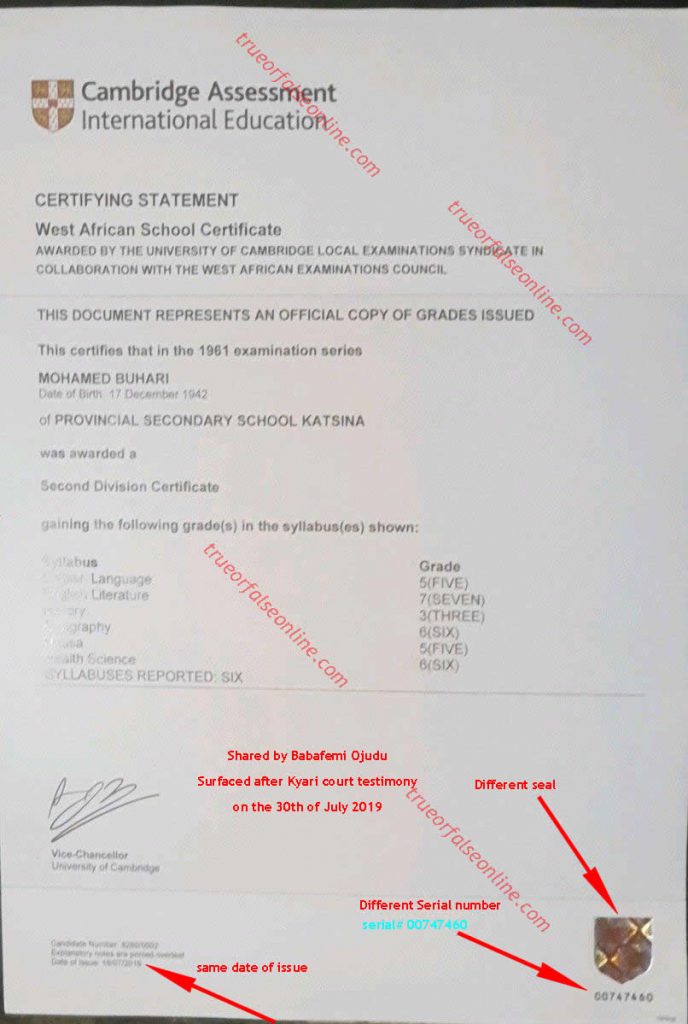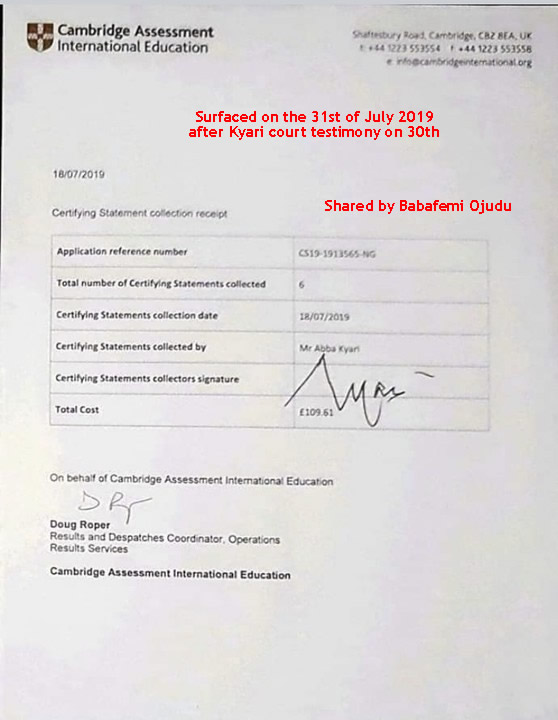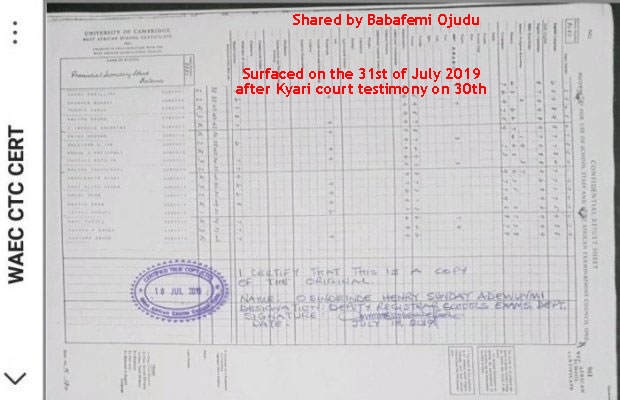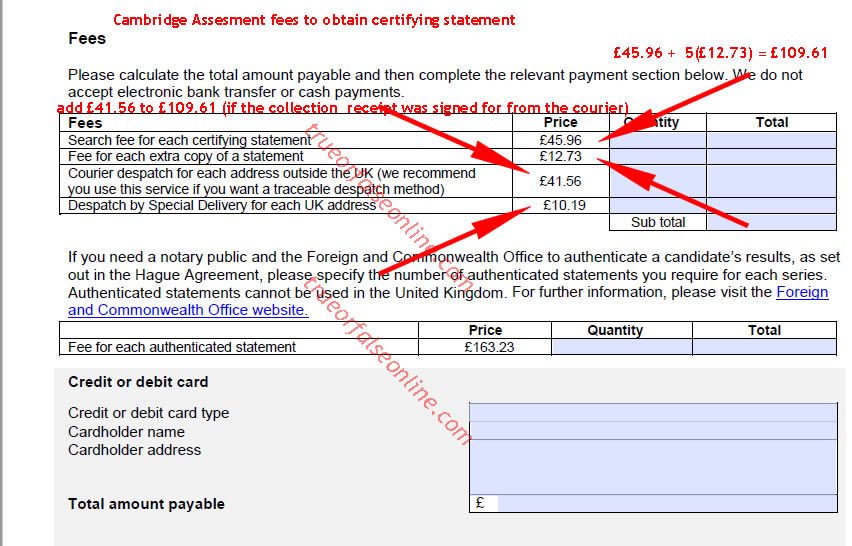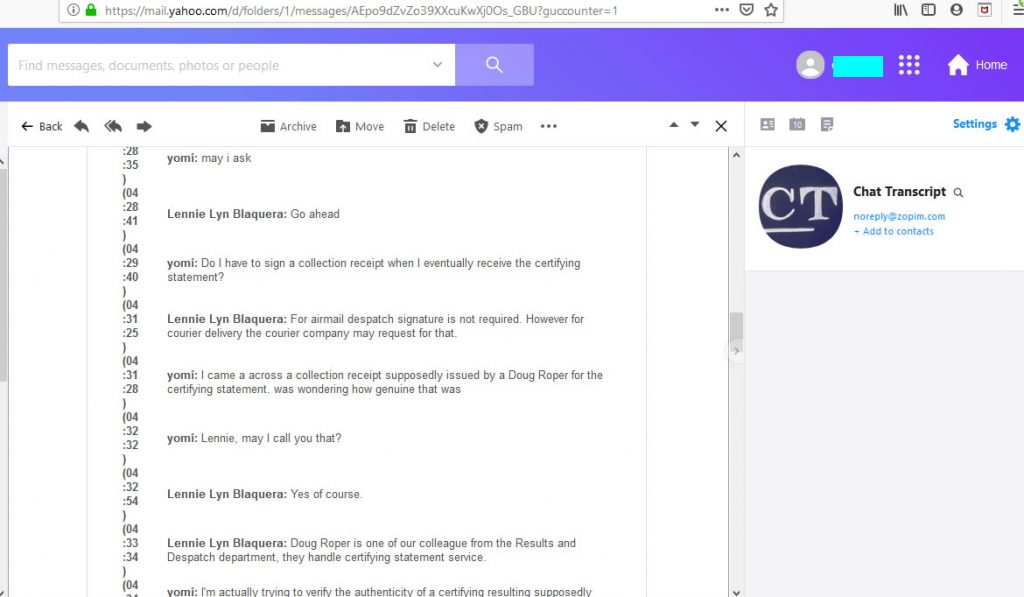 Analysis
There are two versions of this documents that was credited to Cambridge by very close associates of mr buhari.
The first document tagged Exhibit A has a Cambridge document #00747457 it surfaced on the 2nd of August 2019. Exhibit B surfaced on the 31st of July, hours after Kyari's testimony but has a Cambridge document #00747460.
Both documents bear the same name, same subjects of study and generally worded same, they also have same date of issue .The date of issue on both documents are 18th of July, 2019.
Exhibit B is also accompanied with two other documents. Exhibit C shows a purported collection receipt issued by Mr Doug Roper and another document tagged Exhibit D which looks like a result sheet but was stamped and signed by someone working with WAEC but the document also carries "Cambridge".
Whilst these could have been made up by anybody on the internet, the fact that these conflicting documents were shared by very close associates of Mr buhari give credence to their being bandied as authentic document purportedly issued by Cambridge. In fact, the Chief of Staff to the president claimed in court and on record that he personally signed for Exhibit B and C. His signature appears on exhibit C.

The authenticity of these documents are called into question for these reasons.
1. According to Cambridge Assessment procedures, nobody can collect certifying statement by hand, it has to be mailed to the recipient. Yet the Chief of Staff claimed he "personally" received these documents from Cambridge.
2. The cost stated in Exhibit C shows no mailing cost. It shows only the sum for 5 copies and an original certifying statement as stated on Cambridge website. Whilst mailing via airmail is free, its not possible for the mail to arrive the same day it was issued.
3. Very close associates of Mr buhari shared both versions of these documents and are freely bringing up Cambridge's name to back up these unverified documents.
4. There is no way both documents are genuine going by the different serial numbers for supposedly same documents.
5. It appears ALL documents issued by Cambridge follow a progressive numbering. 00747457 or 00747460 appears like it would be out of the expected series in 2019, because as at 2014, the series had progressed well into 7 figures.
The first associate is named Babafemi Ojodu, he is Mr buharis special adviser on political matters, he shared Exhibit B, C and D. He also claimed that Cambridge Assessment validated Exhibit B, C and D to some skeptics in the UK. A story already proven to be false.
The second main associate is Mr Festus Keyamo. He is a minister under Mr buhari and claimed Cambridge issued Exhibit A. See  https://twitter.com/fkeyamo/status/1157367177319714817
The third main associate is Mr buharis own Chief of staff who claimed to have signed for and personally received Exhibit B and C from Cambridge Assessment, See news Abba Kyari admits receiving Buhari's 1961 WASC Certificate from Cambridge July 18 and https://www.channelstv.com/2019/07/30/i-collected-buharis-certificate-from-cambridge-abba-kyari-testifies-at-tribunal/
Inquiries made to Cambridge Assessment confirms that they do not give anybody certificates in person. IT HAS TO BE MAILED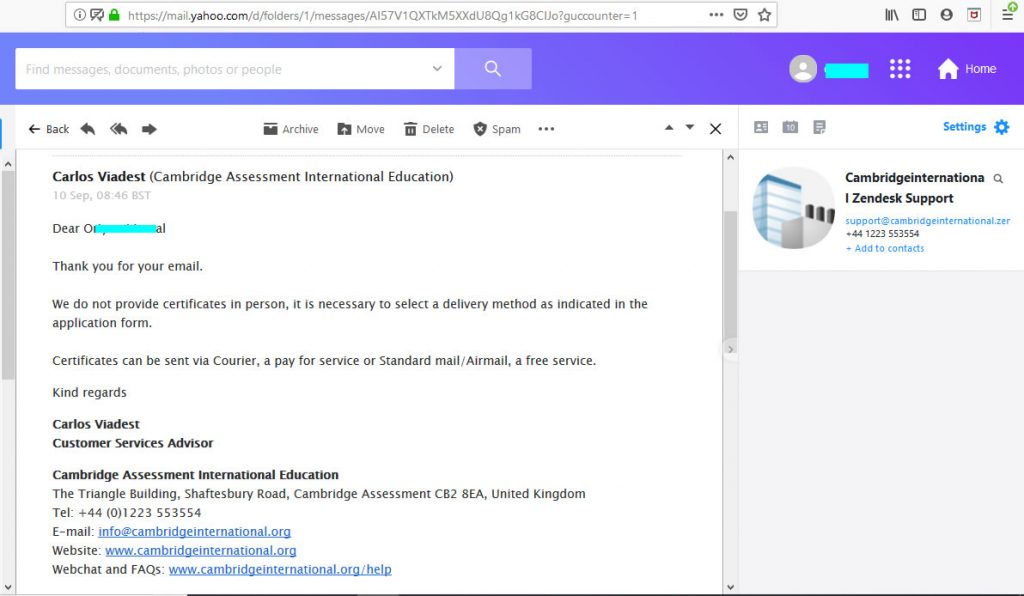 Conclusion
The strongest proof that points to the in-authenticity of Exhibit B, C and D is that they surfaced together. Furthermore, Cambridge affirmed that all certificates must be mailed to the recipient. There is no indication in Exhibit C that payment was made for courier services. It can be argued that the free airmail was used. This free airmail however does not give room for Exhibit C to exist in the first place because Cambridge says it lacks "traceable dispatch method", neither was the £10.19 "special delivery" used. If any paid mailing method was used, the cost would reflect in the Fees Section as seen in CA fees image.
Mr buhari (who spent most of his time in the U.K. between 2015 and 2019, and whose children schooled in the same U.K) didn't walk into Cambridge Office to get his certifying statement all these years, but chose perjure himself at least twice as the evidence shows. Why wait till July 2019 to get what Mr Kyari claims he got in one day?
These all lead to the conclusion that the document are not genuine. Copies of these documents have been sent to Cambridge Assessment for their input. A definitive verdict will be uploaded by 0900GMT on the 11th of September 2019.
(Visited 722 times, 1 visits today)