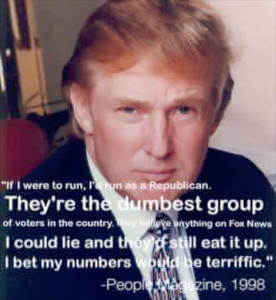 This viral meme about Trump calling Republicans dumb is false. Searching through Peoples magazines 1998 archives turned up nothing remotely resembling this statement credited to Trump. The full text goes "If I were to run , I'd run as a Republican. They're the dumbest group of voters in the country. They believe anything on Fox News. I could lie and they'd still eat it up. I bet my numbers would be terrific."
It should be noted the meme started making rounds in 2015 as noted by Gawker.com, the Republican flag bearer for the 2016 US presidential election was in fact never interviewed by Peoples magazine in 1998 according to one of the  the magazines  public relations representative Julie Farin who disclosed this an email to factcheck.org. All reference to Trump by Peoples during the purported period were about his impending divorce.
See the video of what he told Oprah here in 1998 when asked about running for President of the United States of America.
(Visited 616 times, 1 visits today)