Nigerian buys G-Wagon for South African to apologise for impregnating his wife?

A Nigerian man simply identified as John bought a Mercedes-Benz G-class for a South African man to apologise after impregnating his wife.
Punch, A major Nigerian news medium also carried this story
The Fake story
Punch quoted Daily Live as follows  "Daily Live, a South-African news website, quoted John as saying that the husband of his pregnant girlfriend immediately forgave him on receiving the car.
"I know what I did is wrong but I feel better he has accepted my gift. He accepted that his wife, my girlfriend, is pregnant and will soon give birth to my son. He was angry at first but when I presented the car to him his anger vanished," John explained.
Another South African woman close to the family of the pregnant wife could not hold back her disappointment and anger toward the man as she claimed that Nigerian men would never take South-African men seriously after hearing this….""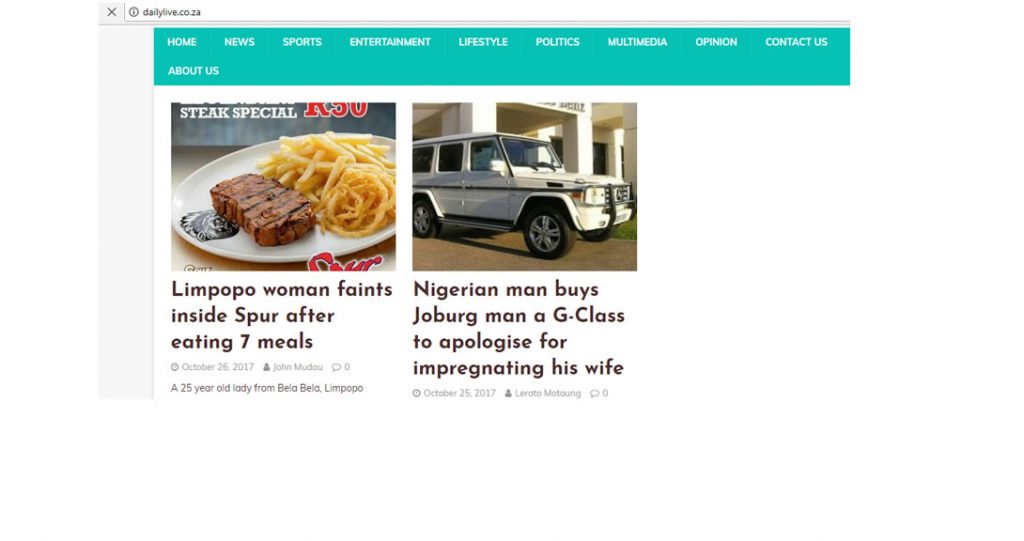 The Truth
Its just Satire
According to the About Us section of the Daily Live, the website prides itself as a news and entertainment site with Satire being a part of their repoitre. (DailyLive is a news website that provides breaking news, sports, analysis, entertainment and satire. Our website is easy to access with PC, Mobile and Tablet.)
The other satire on the website confirms that the news is not real, in addition, no real names, details nor locations were given.
In conclusion, Punch Nigeria has demonstrated the inability to tell Satire from real news and could mislead thousands and give credibility to fake news by puling news feed from third parties and not bothering verifying them, Punch also might take down the story without notifying those who may have believed the story and citing Punch as a source, this itself is one of the main reasons why fake news is hard to combat but we will do our best to point you in the direction of truth.
You can always check here for the authenticity of news before going to town with it, and you can always drop us comments or emails to find out if a news item we are yet to publish is true or not.
(Visited 345 times, 1 visits today)